Practice Perfect 854
Residents - Do You Know How to Play the Coding and Billing Game?
For those of you residents on track to graduate soon, and even those of you in your earlier training, I'll ask you this question: do you know how to play the billing and coding game? Is practice management something you're taught in your programs? Do you think you're going to "pick up" on how to code when you start practice? If the answer to any of these is "no", then consider that you might be missing a very important part of your education…
…because billing and coding really is a game, and a very important one. Let's talk about why this is true and then wrap things up with some suggestions to help.
If you work in a closed healthcare system like a Kaiser or Veterans' Affairs, billing and coding are not terribly important beyond knowing some basics. However, if you're like the vast majority of podiatrists, and you're going to work in open healthcare systems, then you have to know how to properly bill for the services you render.
For every service you provide, whether it is evaluation of a patient complaint or performing a procedure of any kind, it is mandatory to assign a code. That code is then sent to the insurance company and a payment is sent to the practice. There are lots of problems with this system, and we have fantastic people working with national insurance payors to improve the process to physicians' benefits. I applaud all of those people for fighting a difficult fight on our behalf, and, for the rest of us, we simply have to accept that this is the system in the United States.
That means all of us need to be knowledgeable in ICD-10, CPT (Current Procedural Terminology), and HCPCS (Healthcare Common Procedure Coding System) coding as well as properly documenting all aspects of patient care. You not only have to provide the proper code, but you also have to include very specific wording in your chart notes to justify the codes you use. Whether it is palliative care for patients with diabetes or PAD, dispensing a cam boot or other durable medical equipment (DME) products, doing a surgical procedure, or providing evaluation and management services, it is mandatory to understand the system. Unfortunately, this system is very complicated.
Now, I can hear the complaints of some of you. "I didn't become a podiatrist to become a billing expert. I just want to take care of my patients." As much as we became physicians with the express interest in helping our fellow persons, we also need to make a reasonable income. Without making money, we won't be around long to provide that care for which we trained so many years. It's simply the reality that all of us must be businesspeople at the same time that we are humanists. With that said, we must play the reimbursement game. If you play the game well (which means properly and ethically coding for what you do), you will do well. That means obtaining the training while you are in residency.
Most residency programs do not educate their learners on practice management. It's not surprising, considering it's not a "fun" part of what we do. However, consider this: if you graduate residency and go into private practice, and you don't know how to code, bill, and document properly, your new boss will have to teach you, taking their time away from their practice to do so. You will now be worth less to them, and you should be paid less. It doesn't matter if you trained at a high-profile institution, or you can perform the most advanced surgical procedures. You're still worth less to your new boss if you can't get paid for all that work. On the other hand, if you are able, on day one of your new job, to properly get paid for what you do, then you are worth a lot and should be paid more. This is the very reason my residents are taught billing, coding, and practice management.
When you get your first job, if you don't go in to it knowing how to code, you are worth less to them and you should be and will be paid less.
For those of you heeding my advice here are some resources to help get you started.
Your Program Director -

Ask your director if you can build practice management education into your program if it's not already a part. You have several attendings who own or work in private practices, and they are fantastic resources.

Rotate in Private Practices -

Assuming you have permission from your program director, take time to shadow some of your attendings. Make absolutely certain that your director is aware, and it is allowed. Your program might need to establish an affiliation agreement with outside locations to be compliant with CPME guidelines. Private practices are a treasure-trove of resources and knowledge in the process. Speak to their biller and the staff to see how things are structured. You will also learn a ton about managing a private practice.

Online Resources -

The APMA has an excellent resource called the Coding Resource Center. Codingline is another value-added service that is very helpful. The American College of Foot and Ankle Surgeons has practice management resources as well.

Books -

The American College of Podiatric Medicine (acpmed.org) publishes a very good coding manual written by Michael Warshaw, DPM. This can be purchased at a discount for ACPM members – another reason to be a member! Podiatry Management Magazine commonly publishes articles related to practice management and coding updates.

Seminars and Webinars -

There is no shortage of online and in-person education to strength one's knowledge and skills in this arena. ACFAS has a surgical coding workshop. PRESENT e-Learning Systems just had its yearly PRESENT Treasure Hunt Conference in California, which is a great way to network while learning important updates to the practice management world.

Online Lectures -

PRESENT Podiatry has an entire section in its online Lecture Hall containing 31 Practice Management Lectures. These lectures, taught by some of the greatest teachers in the field of podiatric practice management today, are a good way to learn what is and is not important in an area of expertise that can seem overwhelming.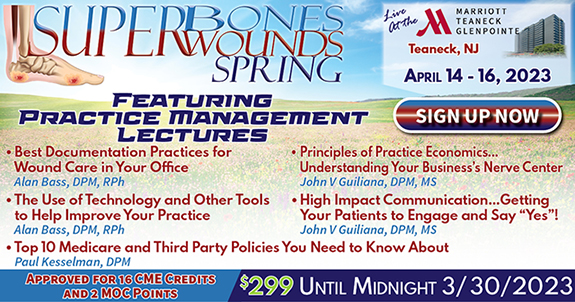 There are so many other resources, and I'm sure I'm missing some important ones. The bottom line, here, is since the number of opportunities to learning proper billing, coding, documentation, and practice management are very large, there's no excuse for all residents graduating to not learn these skills – whether your program explicitly teaches them or not. Be sure you're educated so you can thrive in the world you are about to enter.
Best wishes.


Jarrod Shapiro, DPM
PRESENT Practice Perfect Editor
[email protected]