| | | |
| --- | --- | --- |
| Issue 409 | Subscribers: 21,846 | Jan 28, 2022 |
Paths to Practice Perfection
Use of an Innovative Hybrid Silicone-Acrylic Drape with NPWT to Protect Periwound Skin of a Non-Healing Infected Wound
Introduction:
The use of medical adhesives in patient care has increased; however, their effect on the periwound skin is often overlooked.1 The application and removal of medical adhesives can result in medical adhesive-related skin injury (MARSI) that is frequently worsened with adhesive and dressing removal and reapplication.2

Negative pressure wound therapy (NPWT), commonly used in wound care, is applied with a foam dressing and a polyurethane drape with an acrylic adhesive to create a negative pressure seal.3,4 Removal of this drape can be painful and may play a role in periwound skin breakdown during dressing changes. A novel silicone-acrylic hybrid drape (hybrid drape), 3M™ Dermatac™ Drape, consisting of a polyurethane film with acrylic adhesive and a silicone perforated layer has been developed for use with NPWT to allow for drape repositioning following initial placement and easier drape removal. Dermatac Drape utilizes the combination of acrylic and silicone for improved ease of use and versatility. The perforated silicone layer is a skin-friendly adhesive that eliminates wrinkles (leaks) and makes handling easier. The acrylic top layer is a high MVTR polyurethane film with a high-tack acrylic adhesive that helps keep silicone against the skin.

In a recently published case series study, periwound skin in six patients treated with NPWT and hybrid drape showed no skin irritation or other complications, indicating that hybrid drape can be used with minimal complications.5 This case study reports on the use of hybrid drape in a patient whom periwound skin breakdown developed, with the goal of minimizing periwound skin breakdown during NPWT while maintaining a negative pressure seal.
3M™ Dermatac™ Drape with V.A.C.® Granufoam™ Dressing Kit with the 3M™ ActiV.A.C.™ Therapy Unit
Case Study:
This is a single case presentation of an infected, non-healing wound treated at an inpatient hospital and transitioned to an outpatient wound center. The patient was a 29-year-old male who underwent a transmetatarsal amputation of the right foot. The incision dehisced due to non-compliance with weight bearing. The patient underwent bedside sharp debridement of the area. The infection was managed with the use of intravenous antibiotics. Due to periwound skin breakdown and an increased risk for further maceration, there was a concern that the standard acrylic drape might exacerbate the condition during NPWT. NPWT with instillation and hybrid drape was initiated with 10 mL of normal saline instilled into the wound bed with a 5-minute dwell time, followed by 3 hours of continuous negative pressure at -125 mmHg. The dressings were changed every 3 days. After 10 days, NPWT with instillation was discontinued and the patient was discharged to home with NPWT and hybrid drape.
Patient Co-Morbidities
Wound Progress:
Pre-debridement
Post-debridement
Application of the dressing:*
*Ostomy paste was utilized to help maintain the negative pressure seal during instillation.
Dressing Change Day 3: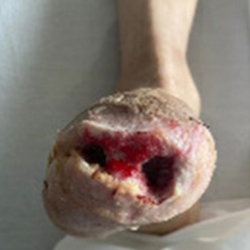 Conclusion
In this case presentation, the use of intravenous antibiotics to control infection along with the use of NPWT with instillation and hybrid drape resulted in intact periwound with improved periwound skin protection and improved wound bed appearance.
Do you have questions regarding this case study?
Connect with a 3M Account Representative to learn more.
Patient data and photos courtesy of Emily Greenstein, APRN, CNP, CWON, FACCWS.
Note: Emily Greenstein was a paid consultant for 3M products at the time of this case study.

As with any case study, the results and outcomes should not be interpreted as a guarantee or warranty of similar results. Individual results may vary depending on the patient's circumstances and condition.

NOTE: Specific indications, contraindications, warnings, precautions, and safety information exist for these products and therapies. Please consult a clinician and production instructions for use prior to application. Rx only.

© 2021 3M. All rights reserved. 3M and the other marks shown are marks and/or registered marks. Unauthorized use prohibited.
References:
Fumarola S, Allaway R, Callaghan R, et al. Overlooked and underestimated: medical adhesive-related skin injuries. J Wound Care. 2020;29(Sup3c):S1-S24. doi:10.12968/jowc.2020.29.Sup3c.S1

Collier M. Minimising pain and medical adhesive related skin injuries in vulnerable patients. Br J Nurs. 2019;28(15):S26-S32. doi:10.12968/bjon.2019.28.15.S26

de Laat EH, van den Boogaard MH, Spauwen PH, van Kuppevelt DH, van Goor H, Schoonhoven L. Faster wound healing with topical negative pressure therapy in difficult-to-heal wounds: a prospective randomized controlled trial. Ann Plast Surg. 2011;67(6):626-631. doi:10.1097/SAP.0b013e31820b3ac1

Blume PA, Walters J, Payne W, Ayala J, Lantis J. Comparison of negative pressure wound therapy using vacuum-assisted closure with advanced moist wound therapy in the treatment of diabetic foot ulcers: a multicenter randomized controlled trial. Diabetes Care. 2008;31(4):631-636. doi:10.2337/dc07-2196

Fernández LG, Matthews MR, Benton C, et al. Use of a novel silicone-acrylic drape with negative pressure wound therapy in anatomically challenging wounds. Int Wound J. 2020;17(6):1829-1834. doi:10.1111/iwj.1347

---
This ezine and the overall sponsorship of PRESENT Podiatry was made possible through the support of our sponsors:
QUESTIONS? CONTACT US
info@podiatry
561-998-7556
podiatry.com © 2020
This email was sent to: %%Email Address%%
This email was sent by: %%Member_Busname%%
%%Member_Addr%% %%Member_City%%, %%Member_State%% %%Member_PostalCode%% %%Member_Country%%
We respect your right to privacy - view our policy